I was looking forward to my stay in a place that I only heard existed. It intrigued me no end to find out what lays ahead. I was anxious about what my experience would be.
So the day arrived. I took a flight to Coimbatore on the morning of 3rd August 2019. My colleague who had reached a few hours earlier from Chennai was waiting to pick me up. Paul was there with the car and the driver. As I came out of the airport, I was delighted to see him. The weather was beautiful, just right for the peacocks. An hour's drive to our host's office was a pleasant one. The greenery passing by, the romantic skies, and the looming hills were a visual delight to my heart.
We were received by Mr. Prajosh B. – Vice President Services, Ms. Bhuvana Iyer – Manager, Corporate Communications, and Mr. Selva Anandh V. – Manager Sales with utmost warmth and impeccable hospitality. Looking at their cheerful faces, I forgot the ordeal of leaving my unwell son behind at home, a sleepless night and the early morning rush to get to the airport. After the morning meeting, we feasted at the city's highly sought-after eatery 'Annapurna'.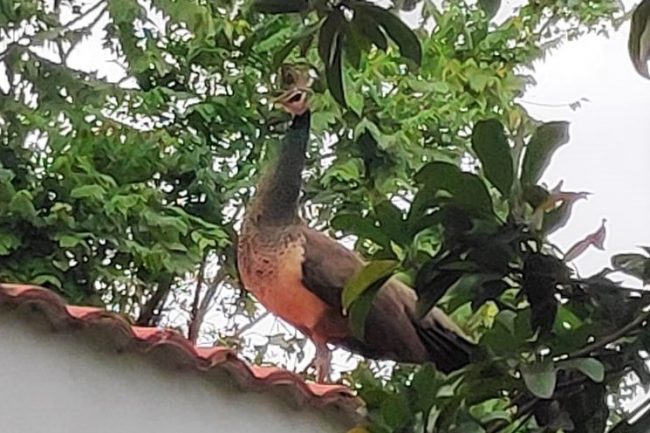 Our host, Col. Achal Sridharan, Founder & MD CovaiCare joined us at 4:00 PM and the conversation continued. Once the working hours were over, he took us to his cabin. From the large windows of his cabin, we spotted peacocks and peahens flying by on the rooftops around. The sight was amazing, and I was taken to it with childlike delight.
Finally, we were driven to our abode for the two nights, after the day's formalities. The gentleman driving was hospitable and cheerful. I marveled at the culture of my host's organisation. Warmth, care, and hospitality were deeply embedded values for them, what we call in corporate terms – organisational culture!
The drive was long, about an hour, but a comfortable one. It was getting dark and I was feeling weary. A little disappointed, that I wouldn't be able to explore the place. I shook off the feeling by reminding myself that I had the whole of the next day. My heart jumped with joy at the sight of the quaint little cottage that was the guest house. The pretty little black iron gate, the tiny veranda, the small garden surrounding it, a cosy living room with a kitchenette and the large bedroom welcomed me with such energy that my weariness vanished in a jiffy. The bed was inviting, right after freshening up I jumped into it and dozed off.
The next morning, I woke up rested to birds chirping. Those melodious symphonies were the much-needed music for my tired mind and soul. They were unstoppable and kept at it through the day. The walk through the property was rejuvenating. The gentle breeze, abundant bright flowers adorning each little house, the picturesque view of the Nilgiri mountains, the swaying coconut trees, the cottony clouds kissing the mountains invigorated me. I realised how much I missed being close to nature.
The faces of the residents passing by peered and cheered curiously. Their smiles said it all. They loved to see new faces. They asked questions, "Are you a newcomer?", "Are you going to stay here?". The tone had the same innocence as that of a child, only the wrinkles gave them away.
Soon, after a South Indian breakfast with my associates Paul and Anil, we headed to meet Mr. V.V. Lakshminarayanan. We were in for a surprise. This 90-year-old man certainly looked much younger. The sharp mental faculties, his glowing skin and the enthusiasm he conversed with, spoke volumes about his towering personality. For someone who had enjoyed a flourishing career with Indian Oil Corporation, travelled to different parts of the country, ought to be radiating dynamism by default. His beautiful 83-year-old wife Mrs. Thangamani joined us in the chatter and kept chipping in now and then. Ninety minutes passed by and we were completely in awe of this couple. There was more to come. While we were leaving, Mr. Laksminarayanan wouldn't let us go without clicking our pictures for memory's sake. He almost ordered his wife softly to get his iPad. The couple was triumphant while clicking us and clicking with us.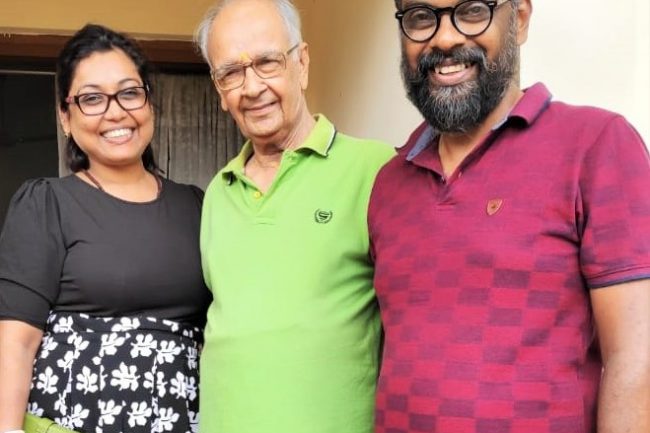 Our minds and hearts were processing what we have been experiencing when the buggy arrived and picked us up for the next destination. The door took a while to be opened by the resident, Mr. Shankarakutty Kaimal, an 84-year-old young man. An astoundingly hyper-energetic personality, he entertained us thoroughly with the stories from his past. A marketer, who left IPS after a stint of only four years, kept us amused with his crazy effervescence that was still intact in its complete potential. He told us stories of how some products were launched in his days. A remarkable storyteller indeed, we were glued to the triumph in his voice, twinkle in his eyes and a smile that never left his face. Once his lunch arrived, we took permission to leave.
Paul, Anil and I could sense each other's mixed feelings about the whole experience. How would life be for us when we enter the so-called senior phase? Where should I spend my retirement days? Why would I want to retire? How would I want to retire? What if I didn't want to retire?
Later in the evening our host Col. Achal Sridharan paid us a visit in his vacant house that doubled up as a guest house, where Paul and Anil were put up. We were in for another round of stories from this 70-year-old gentleman who had envisioned what the future senior citizens could need. Yes, he is the dynamic personality who left the Indian Army and plunged into the real estate business with sheer passion and conviction despite lack of experience or background.
For Col. Achal Sridharan, to have the foresight to conceive the vision of building a beautiful senior retirement community, and giving it a shape must have required tremendous thoughtfulness. With this pioneering effort, he expanded his real estate business to form CovaiCare that was a promise of care and dwelling for senior citizens. Since then, many have followed suit influencing a change in people's mind-sets and investment patterns.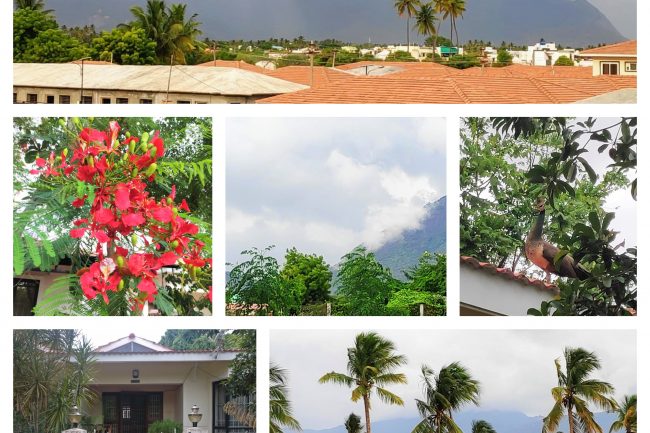 Why am I writing about my experience? I have a good reason, and that goes beyond business or financial gain. The word 'care' in CovaiCare truly means it. Team Covai lives up to it. I always believe and say that the attitude of an organisation reflects in what happens at the top. The foundation of an organisational culture is laid by leaders.
We were taken care of right from the time we arrived in Coimbatore until we left. The itinerary was well planned. Every need was attended to proactively. When Colonel Sridharan had come to meet us in the evening, he handed over each one of us a box of sweets – Mysore Pak from Sri Krishna Sweets. He also gave us a ride to the city and dropped off Paul to the bus station. Was there a need for him to do so much?
The matter that strikes me here is how he is always guided by that word 'care' which he demonstrates in his professional commitments too. Hence people like him go beyond the call of duty. This very attitude has trickled down to every member of Team Covai at all levels. That's the very reason we saw vibrant minds at the retirement community. Their emotional wellness reflects how well they are cared for by Team Covai.
Emotions are contagious, behaviours too and so are attitudes! The trickle-down effect of good leadership cannot be denied. Good leadership influences business positively resulting in creating a good work atmosphere, customer satisfaction, productivity an employee retention.
Are we ready to introspect our leadership skills?