On the beautiful evening of 27th March, 2021, it was time to attend Jalsa 4, presented by Charista Foundation. Hosted by Shilpi's Voice & Visuals at the vibrant and cozy residence of Shilpi Das Chohan, Founder, upon arrival, I found the aura warm and the setting intimate and was greeted with beverages. It was just the kind of evening that I expected – beguiling and uncontaminated, sprinkled with friendly chatter in the air.
The first guest of honour, Jeevan Claude D'Souza of JCD Productions, an Award Winning Director and Producer for radio jingles, television Ads, corporate films, mobile ring tones, anthems & signature tunes. Our second guest of honour, Shri Vinod Shrivastava is an honourable and eminent personality who dons many hats – Industrialist, Bureaucrat & Actor. He is the recipient of International Icon Award- Outstanding Global Leadership Award by IES. They addressed the gathering to officially mark the beginning of Jalsa 4 and greeted the audience warmly with their benign presence.
The Surprises
A soothing and calming atmosphere emerged as Sri Mayur Davay, part of the first surprise feature began singing in his melodious voice which immediately had the audience settled and struck a chord with music connoisseurs in the gathering.  This was followed by the second surprise feature by the pair of Nishant Bali and Jerome Joseph, who then  went on set the mood for the evening with  Kailash Kher's 'Chandan mein', a Meera bhajan, supported by Jerome Joseph on guitar. They were quite wonderful belting out a bhajan on their guitars, a perfect fusion of tradition and modern music.
This was followed by the screening of the Internationally acclaimed Film- "Poonam", which was an alluring take on Elderly Loneliness and the social stigma associated with it.
Guest Speak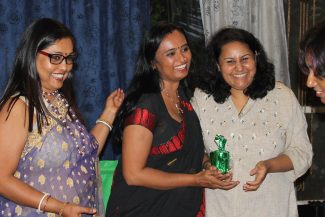 And then, the special guest, Smt. Poornima Das addressed the gathering. She was the Guest Speaker – a dynamic lady who acted in various films. She, herself, is a Connoisseur of Folk Music and Culture and a social worker.
With the continued growth of "Jalsa", attendees have witnessed a steady thickening of the Musicians and Artists who perform mellifluous renditions from a Golden Era. It is immensely pleasing to watch music connoisseurs enjoy soulful music in its organic form, not edited and derailed by fancy electronic paraphernalia. 
The atmosphere became pious and gave way to silence which in itself was an epitome of how the audience was engaged and immersed. I, sincerely applaud the daunting efforts by Shilpi Das Chohan, who has courageously emerged as the torchbearer to carry forward the legacy of a bygone era when "baithaks" was a symbol of hospitality and warmth.
The magic of Puppetry
The cultural connoisseurs also enjoyed a show by the storyteller- Ms. Aarti Kathpalia, an exponent of the lost but gripping and enriching- "Forgotten Art of Puppetry". This was a first for Jalsa, and reviving lost arts being one of Charista Foundation's prime agenda, the lady set the ball rolling with her puppets popping everyone's eyes. Surely, this lost of art of story telling will see a future in her. 
Sensational teen pop
The beautiful evening also witnessed a Pop Medley by the electric duo- Shiuli and Maya. Shiuli, formally trained in classical Music and Maya – a proud enthusiast of western music was the perfect addition to the evening. The sari clad teenagers were nothing less than Modern day Rock Stars who delivered mind-numbing, impressive music at the young age of merely 15 and 17.
It was a fantastic fusion of the east and west, as each one brought something beautiful and unique to the table and to the event. This was followed by an exclusive performance by Bali, whose powerful voice and impactful performance left everyone spellbound and mesmerised. 
The dinner was a decadent offering of authentic Bengali cuisine. It was the perfect menu for art connoisseurs to network over and it definitely marked the beginning of many lifelong friendships and associations.
The focal performance
Cyril Prince and Dr. Chaitra Kalakrishnan curated a mix of blues, soul and contemporary music. They were amazing and were the main focus of the evening. Guests who did not follow the genres were also transported to an ethereal world, mesmerised by their skilful performance.
My Company – AVKA Products LLP is extremely proud to be associated with such an endeavour which aims to revive the long forgotten culture of relaxed evenings and hospitality. I, Viji Murthy, Founder of AVKA Naturals by Viji Murthy, support "Jalsa" as it resonates with our passion to celebrate life, revive and spread awareness about Indian Cultural Heritage- especially amongst the youth across all geographies and demographics.
I, truly believe that this endeavour becomes bigger with every passing episode, and reaches the pinnacle of success – nationally and globally. I wish Team Jalsa immense luck for the same.