The much awaited evening of 26th December 2020 was a kick-starter for 'Jalsa – Magical Salon Concert Series'. Hosted by Shilpi's Voice & Visuals from the living room of Shilpi Das Chohan, the Founder's residence, this was the very first edition of the planned series . She and her family opened their home and hearts to artists and art aficionados to materialise her long pending dream of bringing artists and audiences up-close to experience unadulterated live performances in a private and warm home ambience.
The pure, unadulterated soulful sound of musical instruments, voices, the energy and emotion of the artists, the intense non-verbal response of the select audience made the melodious evening superlative. The space was brimming with warmth, vibrant energy and anticipation. The seating arrangement was humble with some sofas, chairs and benches for the elderly, while the younger folks sat on dhurries (carpets) laid on the floor.
Sound is the essence and evidence of life. It has a natural presence asserting the very existence of life. Whether it is natural, or from musical instruments or the human voice, sound has an impact on everything living.
The session started off with instrumental Jugalbandi between flautist Dattatreya Mutalik Desai and tabla artist Kaushik Bhat. This young talented, trained and promising duo took the audience into an ethereal world of pure sound that emanated from their instruments without any mics. Part of the audience, who didn't follow classical ragas were also hypnotized. The camaraderie between the artists was peerless and Dattatreya ended the performance by playing the famous Meera bhajan 'Paayoji Maine Ram Ratan Dhan Paayo' on his flute. It was 75 mins of uncompromising divinity.
Guest of Honour, Shri Kamal Kishore Rajput, retired senior scientist from DRDO and an Urdu poet graced the occasion along with his spouse Smt. Chhaya Rajput . He addressed the gathering with a brief speech about the initiative to revive the old world charm of Baithaks through the Jalsa series. He instantly recited: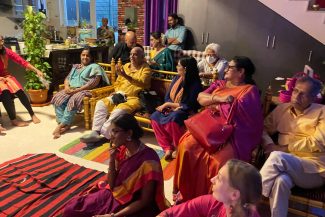 ज़िंदगी एक जद्दोजेहद का दरिया है
जलसा ही जीने का आसाँ ज़रिया है
Zindagi ek jaddojehad ka Dariya hai
Jalsa hi Jeene ka Aasan Zariya hai ✍️
Translation : Life is a river full of struggles, yet Jalsa can easily provide a way to live in harmony and enjoy
He said "First event of Jalsa went through very well. In short it was a unique approach to harmonise music and get-togetherness in a perfect blend. It was a rare occasion in the pandemic situation to bring thirty odd people together and provide them some sort of relief during current mental turmoil that everyone is going through. Nearly four hours of music, food and sharing experiences led to memorable evening with perfect management. Kudos to organising such an event. We hope Jalsa goes a long way and becomes bi-monthly event in future for many thirsty souls to get the taste of music, harmony and food."
Jalsa then moved to the screening of the internationally acclaimed, 15 minute social short 'Poonam', a film on elderly affected by loneliness, produced by Shilpi's Voice & Visuals and Epicreel. It was nostalgic and a reminder of the times when community television time was something to look forward to.
Padmashree nominee (2018), Dr. Manjula Raman shared the story of a friend similar to the film's story. She cited the woes of ageing and expectations of parents as well as their children. She also emphasised on the need for some crucial changes, the society needs to bring about, in terms of tackling this issue. The audience was the right mix of senior citizens, middle-aged and young people and were moved by the film and Dr. Raman's words.
The session broke for some 'guftagu' over food waiting to be devoured. There was pav-bhaji, dahi wada, and the quintessential gajar ka halwa from Sital Garodia's Homestyle Food and Bengali Vegetable Chop from DR Snacks for the Bong Connection. The guests and artists interacted with each other with an air of comfort and inexplicable warmth, which made a warm sight. Food is an integral part of Indian hospitality, and Jalsa definitely got full marks for that.
The intermingling of like-minded people and their interaction with artists, the direct appreciation of audience for the artists, instantly and uninhibitedly is one of the focal points of Jalsa. Full marks again! All in all, Jalsa ensured that
The audience witnessed artists and live performances up-close
Art is more accessible to people
A beautiful and loving bond was created amongst artists and the audience
The artists and the chosen niche audience were made for each other.
It took some effort for the hostess to coax/persuade the audience back to the second half of the session. Accomplished Vocalist Sri Nilanjan Sen, a student of Shantiniketan and JNU, took over the session with his harmonium and his reverberating voice, as he sang the choicest ghazals one after the other, keeping the audience enthralled and humming along. Kaushik Bhat and Dattatreya Mutalik Desai accompanied him flawlessly on their tabla and flute.
It was a treat to feel the energy of the trio, the sound of the instruments and the soulful ghazals. The atmosphere was further charged up with Nilanjan adding some humourous anecdotes on falling in love related to the lyrics of the ghazals, now and then. The audience were now completely immersed in Jalsa and so were the artists. However, all good things need to end. It was already three and a half hours and continuing.
But wait, there was a surprise! An eight year old disciple of Dattatreya Mutalik Desai was presented to the audience. The little wonder of this flautist left the audience speechless with his deft performance on the flute. The audience blessed him profusely for a great future.
Shri Kamal Ji – Guest of Honour, Dr. Manjula Raman – Special Guest and all the four artists were gifted boxes of handcrafted cookies sponsored by Susy's Pink Roses a brainchild of cookie artisan Ms. Susy Indrie. A basket of marvellous looking cookies were displayed for sampling too and the audience as well as the artists didn't shy away from gorging on them, lovely little things during the break.
It was almost 9:00PM and time to bid adieu. The after taste of the evening will be cherished for long. Jalsa achieved what it had set out to achieve.
Audience Speak:
Dr. Manjula Raman – CEO, Royal Concorde Group of Schools
Jalsa is a unique experience bringing back Remincence of yesterday baithaks that celebrating art and artist. The concept of having a small group of rasiks is unique and helps in curating a memorable experience. The ambience the interaction amongst the invitees and delicious spread was truely a beautiful experience. I and my husband thank shilpi for being so kind and thought to invite us to the maiden jalsa experience.
Mr. Anil Mohan – 69 year old Ex-Hotelier & Consultant
After I was informed that the invites were closed & I may have to wait till the next time, I must say that I was quite disappointed. But you were kind enough to accommodate me & I'm really obliged to you for that gesture. Well, I was quite happy to see a good gathering of such enthusiasts. Everyone seemed to enjoy the music, the delicious eats & most of all, your warm hospitality. Seating was perfect, presentation & the short movie was apt and the quality of artists was excellent. Dattatreya Mutalik Desai on flute & Kaushik Bhat on tabla were exceptional. Ghazals are very close to my heart & Nilanjan Sen did full justice to some of the most melodious ghazals. On the whole a great evening. I do hope & pray that this initiative continues & we can all be part of it for long time to come. On the whole a memorable evening. Full marks to you & to your team
Mr. Anik Banerjea – Chief Business Creator, Ripple Fragrances Pvt ltd, Makers of IRIS Home Fragrances for Wellness, division of NR Group
We have got tired of looking at screens , so when the invitation came , I was very excited. Nothing beats having a live performance experience. I remembered the various jalsas I have taken part in many moons ago. Then the day arrived, I went with great expectations, eager to hear good music and also meet the hostess, and other interesting people. The idea of giving a brief bio of the artists and audience was a nice idea, The event exceeded my expectations. The performances were very good , especially the flute recital. The ambience was beautiful and classy. The snacks were sumptuous and delicious.Everything flowed beautifully. It was nice to be with a lovely audience. Congratulations Shilpi, for your initiative and for being such a perfect hostess.Looking forward to many more such events. Jalsa Jug jug Jiyo.
Ms. Preeti Bhuyan – Pinkathon Ambassadress, Organ Donor & RJ
It was a much needed break for me, and trust me it was worth attending. when Shilpi called me to say her idea of celebrating musical JALSA, i said yes without thinking much about it.
It was a wonderful event with different taste of music from Flute to Ghazals. Atmosphere was lovely, food was awesome and the way of Shilpi's hosting, was just amazing. I never thought one can organise such a gorgeous event in their living room so amazingly. It is a new concept of hosting happiness. I just loved it, looking forward to attending many more events in future. I feel privileged for the invitation and loads of wishes towards all the artists and Shilpi Das Chohan for future event…
Ms. Saraswati MV – Student of Carnatic Vocal Music
Jalsa- A musical extravaganza where Art is worshipped. A meticulously planned music concert, with every detail being taken care of by Shilpiji, who has put her heart and soul into making it a memorable event for one and all. It was a musical evening to be cherished, as we thoroughly enjoyed soulful music by the talented Artists.The Warmth and Hospitality extended by Shilpiji and her family was something that added charm to the ambience. Jalsa- her sweet dream, nestled in her sweet home. Wishing You many more series of successful musical jalsas Shilpiji.
Shiuli Chohan – 15 year old, student of Hindustani Classical Vocal Music
It was an inexplicable experience to watch a live performance from such close proximity. The joy of watching the percussionist's finger movements on the tabla, the sound of the tabla and the flute directly from the instruments, the expressions and the body language of the artists, the voice of the ghazal singer without the need of a mic, his facial gestures all of this were captivating. I can never have the luxury of experiencing this in an auditorium set-up.
Artists' speak:
Dattatreya Mutalik Desai – Brilliant flautist
Though I have been performing since last 12 years I have never come across such a ambience and vibes. Its entirely a new experience showcasing your talent to top class audience and most importantly you get a chance to interact with them. Honestly it was a great pleasure performing at 'Jalsa concert'. It's our Traditional way of celebrating music through "Saloon Concert" is just awesome and one can't express in words. Shilpi ma'am, one who is behind the 'Jalsa Concert' is really doing the great work and striving hard to bring back our tradition. Hats off to you madam.
Kaushik Bhat – Deft percussionist (Tabla)
Really it was a great pleasure to perform at Jalsa . The response from audience was really great. The artist really feels satisfied when audience start understanding and enjoying what we perform, so I really felt very much satisfied with the audience .the ambience of the hall was so amazing, overall really it was a very nice experience,. thank you shilpi ji for this wonderful initiative.